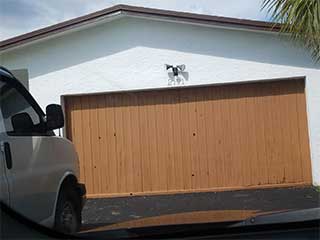 Preventing problems is what we do. If you want your door to experience as few issues as possible, and to ensure you avoid as many complex malfunctions as you can, then the maintenance service our team provides is exactly what you need.
Opener Safety Testing
In order to make sure your automatic garage door is safe for you and your family to use, you need to have the safety mechanisms checked and adjusted. Our team will test both the safety sensors and the auto-reverse mechanism, and correct and misalignment or force limit settings that aren't precise.
Spring Adjustment and Lubrication
We will also test the balance of your door, and make sure that its springs haven't become too worn to function, or that they're not under too much tension. We will also lubricate their coils, which will ensure a smoother and quieter door movement. These components can be very dangerous when they break, so you must never attempt to adjust or replace them yourself. Garage door springs can cause serious injuries when they're mishandled.
Speaking Of Silence
There are other hardware parts of your door that can benefit from being lubricated. All the moving metal parts, which include the rollers and the hinges, need to be treated this way in order to reduce some of the friction-based stress that they experience. Regular maintenance is how you minimize wear and tear on these parts and make them last longer.
The Results Speak For Themselves
If you don't take care of a mechanism as complex and hardworking as your door, you simply won't be able to use it for a long time. If you do make sure that all of the relevant parts receive the maintenance they so rightly deserve, you'll be able to keep using the system for a very long time, and avoid all sorts of costly problems down the road. Contact our team at Garage Door Repair Deer Park today to learn more.
When it comes to your door, we don't settle! We also offer:

Damaged Parts Replacement

New Opener Remote Controls

Garage Door Troubleshooting Services

Garage Door Torsion Spring Replacement