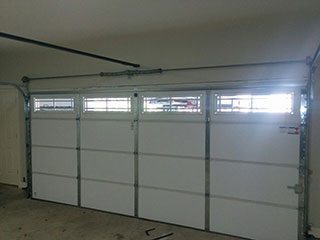 A lot of things can affect the performance of your door, from worn rollers to opener motor problems to even short circuits. However, one of the most common problem homeowners will face is usually a broken spring. These components are under a lot of stress on a regular basis, so it's no wonder that they just snap eventually.
Skill and Experience Required
Garage door spring repair is no simple task. Handling these units requires an understanding of the way they work and experience carrying out replacement jobs. Spring adjustment can also be tricky, as it involves loading these components with tension, which can be a recipe for disaster when performed by an inexperienced 'chef'.
Let The Experts Handle It
There are some aspects of garage door maintenance that you can undertake yourself, like parts lubrication, safety sensor testing and overall inspections. When it comes to the springs, however, you shouldn't take any risks. The dangers are far too real and potentially deadly. Our technicians have the technical skills and the experience needed to safely handle these components. We can troubleshoot the problem if it isn't immediately obvious (the way a broken spring is) and then replace the affected unit or fix it on the spot.
Understanding The Difference
There are two types of these components that are in common use today. The first is the torsion unit, which is installed across a metal shaft which rotates drums that pull the panels up with the use of lift cables. The second type are the extension springs, which are always installed in a pair, one on each side of the door. They stretch as the door lowers, and then contract to help it rise back up. Because of this, torsion springs are considered the stronger and safer of the two, since the way they work means they're less likely to whip around when they break.
Emergency Repairs and Scheduled Maintenance
Whether you need to have a broken spring replaced ASAP or you want to get the most out of these units by having them professionally maintained, our company is at your service. Call Garage Door Repair Deer Park today for more information.
In addition, count on us for:

Belt Drive Opener Installation

Garage Door Cable & Track Repairs

Garage Door Safety Inspections

Broken Garage Door Spring Replacement