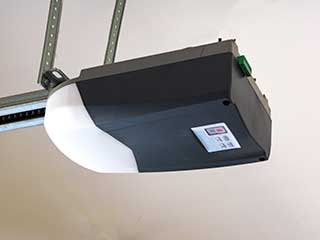 The benefits an automatic garage door opener offers are numerous. It can make your daily routine a lot more convenient, and it can also keep your home better protected from burglars and thieves. However, its different benefits will quickly become detriments when some part of it starts to malfunction. To have the situation dealt with as quickly as possible, give our team a call.
Knowing When To Upgrade
If your garage door opener is considerably old, then it may be worth it to simply choose to get a new one installed. There are all sorts of new technological features available today that can offer you a wide range of advantages. WiFi enabled models can allow you to use your smartphone to monitor and control your door from practically anywhere in the world. A backup battery system will allow you to keep using your opener when the power goes out suddenly. There are all sorts of things that are worth considering, and we're here to help you decide which features are the right ones for you.
Problems With The Motor
If you discover that your opener starts making strange sounds, then its motor gear could have broken or worn out. That means that the unit won't be able to generate the horsepower it needs to generate in order to move the door, so you'll need to have it fixed quickly in order to be able to continue using your door freely. This requires experience and technical skills, both of which our team has in droves.
Circuit Board Issues
The problem with your opener won't always be mechanical. Due to unexpected power surges or electrical glitches, the unit's electronics could become fried or malfunction all of a sudden. This could lead to erratic behavior from your opener, and even a complete lack of response. Count on our technicians to replace the affected parts, including burnt wires and even the entire circuit board if that's what's called for. If the problem is with your safety sensors, we'll be able to realign or replace them as well. As part of the garage door maintenance service we offer we always test the functionality of the photo eye sensors in order to make sure the unit is safe for you and your family to use.
Contact Us Today
Our experts at Garage Door Repair Deer Park are ready to help you with anything, from complex problem troubleshooting to consultations on which type of opener is the right one for your home. We work with all of the industry's leading brands, including LiftMaster, Genie and Craftsman, so you can rest assured that we can help you find a motor unit that will suit all your needs. Call us today for more information.
Need more? We also provide:

Residential Garage Door Repair

Garage Door Cable Replacement

Opener Sensor Repair & Replacement

Garage Door Opener Maintenance